Leg lengthening – A safe and effective surgical method to improve height
In recent years, leg lengthening surgery to improve height has helped many people with short stature and those with injuries related to leg length discrepancy fulfill their dreams.
Despite this, it is still believed that leg lengthening is a risky, costly and time-consuming method that can lead to many complications and cause the patient to stay idle for a period after the surgery. In order to have the simplest and easy to understand view on leg lengthening, let's take a look at the procedure, conditions, level of safety along with the trusted surgeons that will perform this important type of surgery.
Principle, procedure and and level of safety
The principle of leg lengthening, is based on the discovery that the body has the ability to create and form new bones on its own when the bones are cut apart and slowly pulled. This is an important discovery of Professor Ilizarov, a Russian doctor in the 50s of the twentieth century.
Many people still think that after the surgery, patients will have to stay "motionless" for a whole year. When you think about surgery and the use of cutting tools, you cannot stop yourself from feeling afraid of the pain that will come along. However, according to experts, thanks to stretching tool and the help from advanced pain relievers, after the surgery, patients will only suffer from minor pain in a short period of time. Patient N.T.H (24 years old) who underwent leg lengthening surgery a year ago shared about his story: "Starting from the second day after the operation, I could already get up by myself to eat, drink and watch TV. On the third day, I could get to my wheelchair to start moving around. After 10 days in the hospital, I was sent home and was able to return to my daily routine without any help or assistance from my family."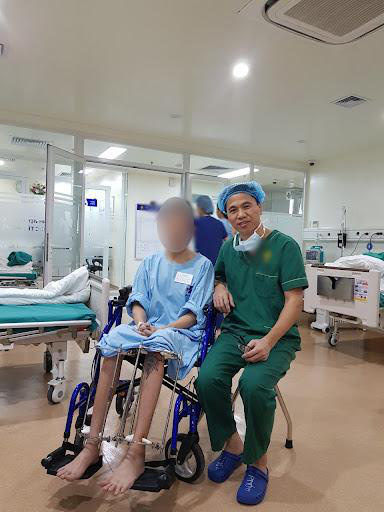 Assoc. Prof., Ph.D. Le Van Doan doing a check-up personally for a patient who has completed his lengthening phase and was preparing to get the fixators removed
Over 10 years ago, if you only used external fixation in leg lengthening, the lengthening phase would take between 9 and 12 months (average stretching rate of 45 days for each centimeter). Now, the combination of intramedullary nailing and external fixation is one of the most advanced surgical methods, helping lengthening phase reach its maximum efficiency and reducing the time that patients have to carry the fixators by 75% (average stretching rate of 10 days for each centimeter). This is possible because along with osteotomy and installing daily stretching external fixators, doctors also place an intramedullary nail inside a medullary cavity with a stopper at the top of the upper bone. This new method has been applied to hundreds of cases without any failure, deformity or complication. After recovery, leg lengthening patients can move freely and even do high-intensity activities or play sports safely.
With reduced duration and fewer and smaller surgical scars, this advanced method is currently being used by cosmetic leg lengthening centers in Vietnam and around the world.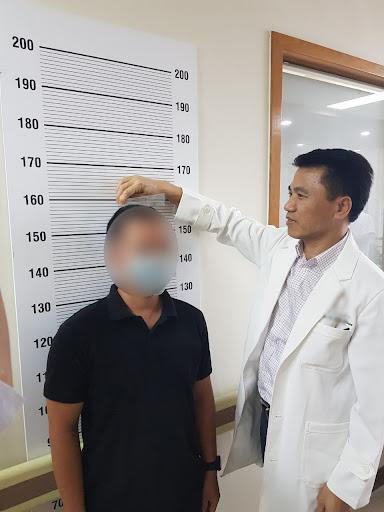 Before performing the surgery, doctors will discuss about the desire of each patient to give appropriate advices
Hundreds of successful leg lengthening surgeries that help change the lives of many
After having successfully performed hundreds of leg lengthening surgeries, Assoc. Prof., Ph.D. Le Van Doan could still recall perfectly each case and the desires of his patients. According to the doctor, all of his patients when coming to his clinic all shared an overwhelming inferiority about their heights that resulted in them being unable to socialize with their peers and being insecure and reserved all the time.
One of his patients was a female university student who was as small as a piece of candy. She had a pretty face but her height was only 138cm and she weighed over 35kg. After receiving detailed advice and a clear treatment plan, without any hesitation, the young girl agreed immediately to undergo the leg lengthening procedure.
After more than 3 months, she burst with joy to when her height was increased by 8cm. She was also the patient with the shortest height that received leg lengthening treatment from the doctor.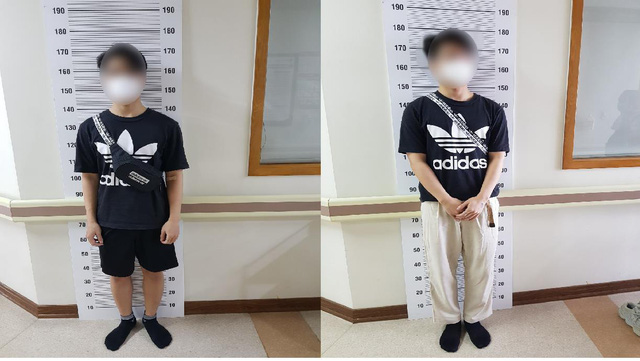 A patient before and after receiving leg lengthening surgery
Another patient was an over 40 male actor who was only 164cm tall. He decided to undergo leg lengthening treatment to get more job opportunities and more acting roles. There was also a patient who was already 172cm tall but had a long back. He wanted to pursue a modelling career, therefore he even flew from Saigon to receive the procedure. After a year, he could walk with confidence on the catwalk with his new height of 180cm that no colleague can recognize.
Many patients were international students who felt inferior about their heights after spending a time studying abroad. They made use of their summer breaks or took a year off to undergo leg lengthening surgery with the hope that they could get more job opportunities or settle down in a foreign country.
Not only in Vietnam, even for people in medically advanced countries, there are still demands for leg lengthening service. This shows the level of safety and efficiency of this method as well as the current expertise and high skills of medical doctors in Vietnam.
There is also a case where a girl of Vietnamese origin who was living and working in the UK, also decided to take a year off work to return to Vietnam to perform surgery to improve her height of 149cm, due to being unable to integrate with the environment abroad.
A trusted doctor in Vietnam
Leg lengthening is a rather complicated technique which is not only about bone surgery but also requires knowledge, qualifications and experience, as well as specialized facilities and tools. Therefore, each patient needs to prepare himself mentally and choose a reputable, ethical and highly qualified surgeon to ensure the safety of his surgery.
Among many medical facilities and hospitals across the country, you can refer to the website drdoan.vn. This is a website created by Assoc. Prof., Ph.D. Le Van Doan directly created so that those who are interested can learn, consider and prepare carefully before undergoing surgery.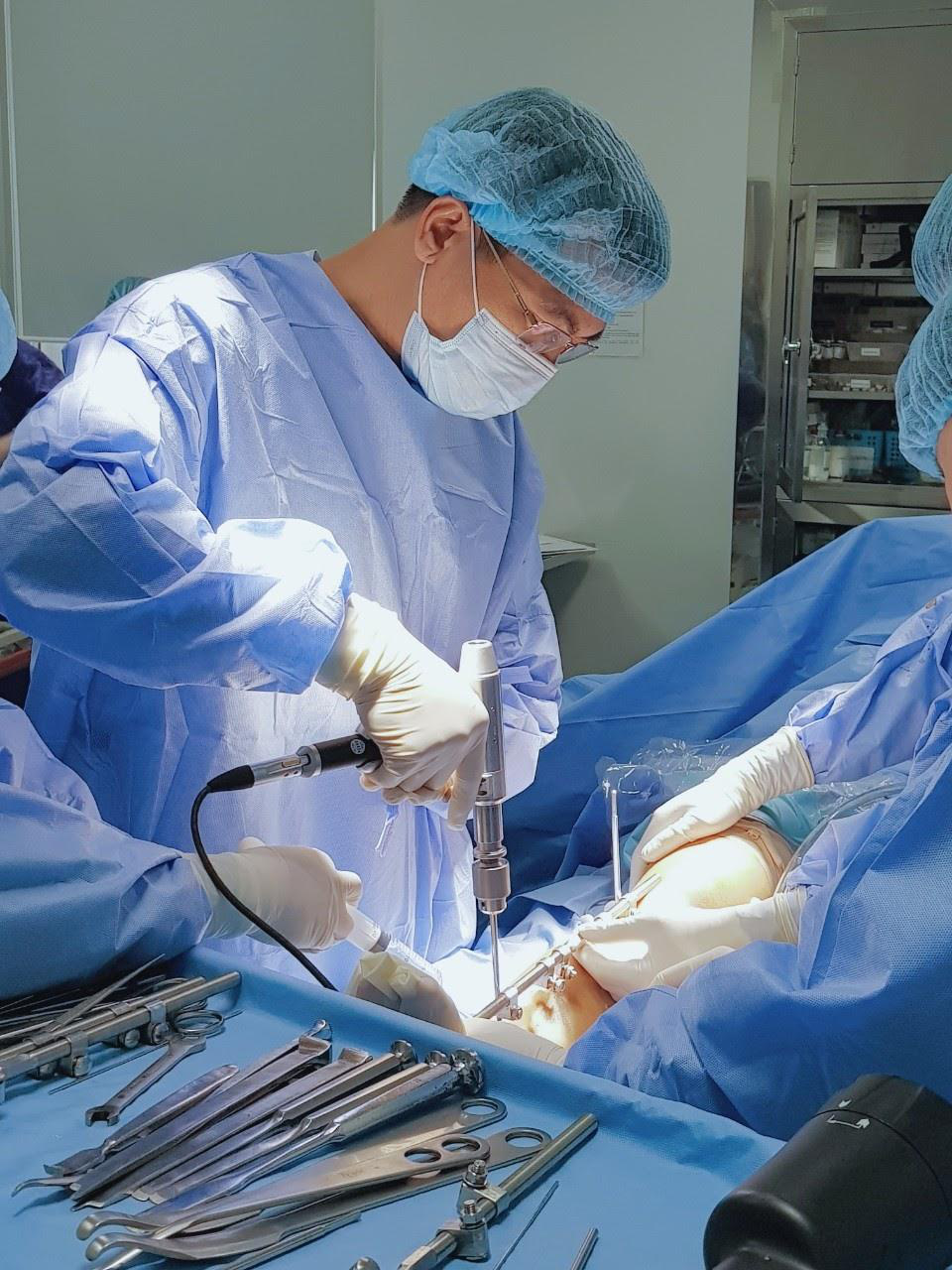 Assoc. Prof., Ph.D., Dr. Le Van Doan is one of most experienced specialist in leg lengthening surgery in Vietnam
Dr. Doan has had 15 years of experience as a doctor directly operating in surgery and treatment, with many years holding important positions such as Head of Department or Director. As early as 1991, Dr. Doan was assigned to be in charge of treatment and monitoring of the first leg lengthening surgery. Through daily practice of leg lengthening, combined with reference to the experience of leg lengthening surgeons around the world, his research team has continuously improved surgical instruments and techniques to suit Vietnamese patients' economic and anthropometric conditions.
Over the past 30 years, Dr. Doan has consulted, monitored, directly operated and treated more than 500 cases of leg lengthening, including more than 300 successful cases of leg lengthening to improve height. According to the sharing of most of his patients, Assoc. Prof., Ph.D., Dr. Le Van Doan, Director of the Institute of Traumatology and Orthopaedics – 108 Central Army Hospital, is one of the most experienced specialist in leg lengthening surgery in Vietnam and a trusted doctor in this field, helping his patients feel reassured and ready for their life-changing surgeries.