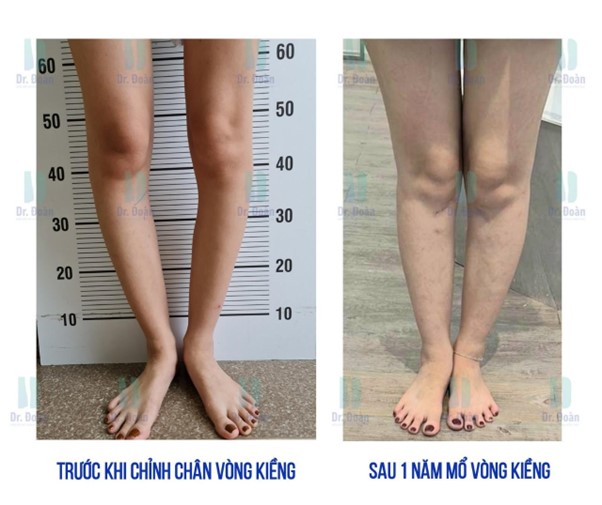 "Getting my bow legs corrected was a significant life decision for me. It takes tenacity and a great deal of courage for people with imperfect legs like us to have the chance to develop confidence and shine in life, despite facing psychological pressure, family disobedience, etc."– Ms. H.V., who underwent surgery for leg correction six months ago, shared.
Turning low self-esteem into motivation to escape the life affected by bow legs
According to Assoc. Prof., Ph.D. Le Van Doan, who has more than 30 years of experience in the field of orthopedic surgery, the number of patients seeking correction of bow legs into straight legs has increased in recent years. "Every patient who comes to me for advice has their own set of feelings and goals. They feel inferior and have a lot of self-doubt about their body shape and physique." – Assoc. Prof., Ph.D.Dr Le Van Doan said.
H.V graduated from university with a first-class degree, has a bright face, and an ideal height of more than 1.6 meters, but she still feels scared and lacks confidence because of her bow legs. "Despite having long legs and white skin, I've only ever dared to look at short skirts. I tried on my favorite beautiful dress several times, but I was never confident enough to wear it out on the street because I was always afraid of people looking at my bow legs." – Ms. H.V., 24 years old, shared.
Ms. H.V. was overjoyed after doing her research online that there is Dr. Doan, who has experience performing corrective surgery for numerous cases of severe bow legs. She immediately scheduled a consultation and eagerly anticipated the appointment to fulfill her dream. "Before performing any orthopedic surgery, I personally examine each patient, take the time to learn about their goals, and use tomography to measure the lower limb axis and provide personalized recommendations. Customers in particular cases were aware of the surgical procedure and the recovery from surgery process." – Assoc. Prof. Doan shared.
H.V. sought advice and discovered that the surgery, hospital stay, and rehabilitation process were not as difficult and drawn-out as she had originally believed. With the support of her family, she scheduled the surgery right away. Ms. H.V. was unable to contain her happiness as she gazed at her long, straight legs in the mirror before sobbing uncontrollably.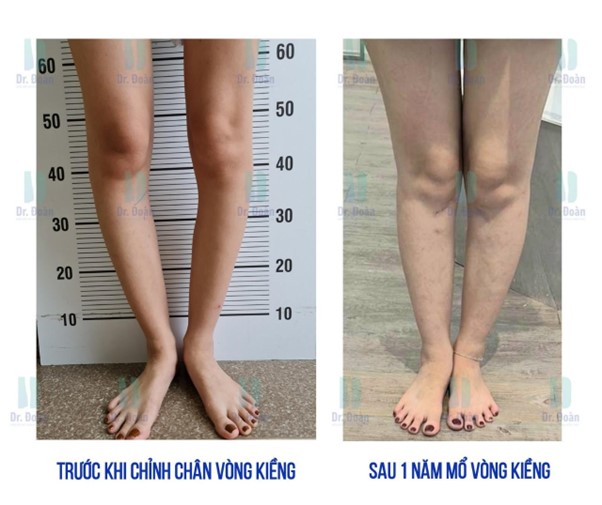 Or, in the case of Ms. N.T. K, she poured her heart out when she saw Dr. Doan. "Having bow legs is still a defect, even if a woman is smart, has an oval face, and is young. I am extremely self-deprecating because of my legs, especially when the nature of my job requires me to meet customers frequently."
Ms. N.T.K had her legs directly operated on by Doan doctors to straighten them at the end of 2021. "I consider myself lucky and appreciative that the doctors were able to help me have straight legs, something I previously believed could only be accomplished in countries with highly developed medical systems, such as the UK and the US. I am now significantly more confident in life and work after only 4 weeks of surgery and recovery. – Ms. N.T.K revealed.
According to Associate Professor Doan, men are just as likely as women to be interested in leg lengthening surgery or correcting bow legs. "I once gave two French brothers both leg lengthening and leg correction procedures. Having crossed great distances to Vietnam, they showed confidence and determination to have longer legs despite having bent legs and shorter legs than the natives. The French brothers have been able to proudly display their tall figure with straight, long legs that have grown from 1m63 to 1m70 up until this point."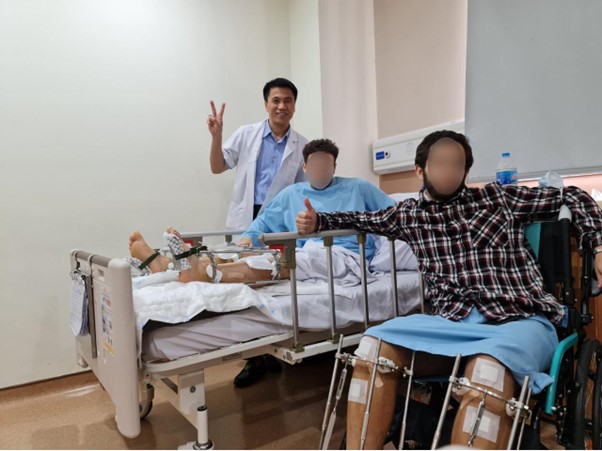 What level of correction will be used, and when will surgery be necessary?
The majority of people with normal legs are slightly bent, according to Associate Professor Doan, but not everyone has surgery as a result. The doctor decides whether or not to perform the surgery based on the severity, and the outcomes vary depending on each case. The severity is also generally reduced from its initial level to between 90 and 95 percent. Therefore, please feel confident in Dr. Doan for the most detailed advice on indications and procedures for surgery and rehabilitation.
Additionally, Assoc. Prof. Doan claims that surgery to correct the bow leg heals more quickly than leg lengthening. Typically, a patient who has undergone surgery to correct bow legs only requires three to four weeks of rest before being able to walk normally. The patients are once again free to participate in sports after six months.
With only two hours of surgery, having straight legs and being the right height is a significant change that will bring joy, happiness, and a lifetime of confidence.