Having been always obsessed with his modest height of only 163cm, the 23-year-old Thai young man was determined to get his legs stretched to gain confidence and integrate into the foreign community, where he was studying and intendded to live and work after finishing his study.
Believing in his own choice
Preeda is currently an international student in Australia. "When I arrived in the land of kangaroos, I felt inferior and small compared to my friends here. Even with the girls in my class, I had to raise my head," Preeda shared.
Motivated to get his limb stretched, Preeda searched online, learned about the procedure, the time and cost needed to for a lengthening procedure. Preeda said: "This method is safe and effective and is quite popular in many countries around the world such as Korea, the U.S., the U.K., Japan, etc. but the cost is quite high which can go up to over 100,000 USD/surgery. This amount of money is huge and beyond my economic ability."
Preeda was born and raised in Thailand – a country famous for many cosmetic services, especially transgender. However, limb lengthening is not available in his country. In Southeast Asia, only Singapore provides limb lengthening surgeries but the cost is on par with that of the U.S.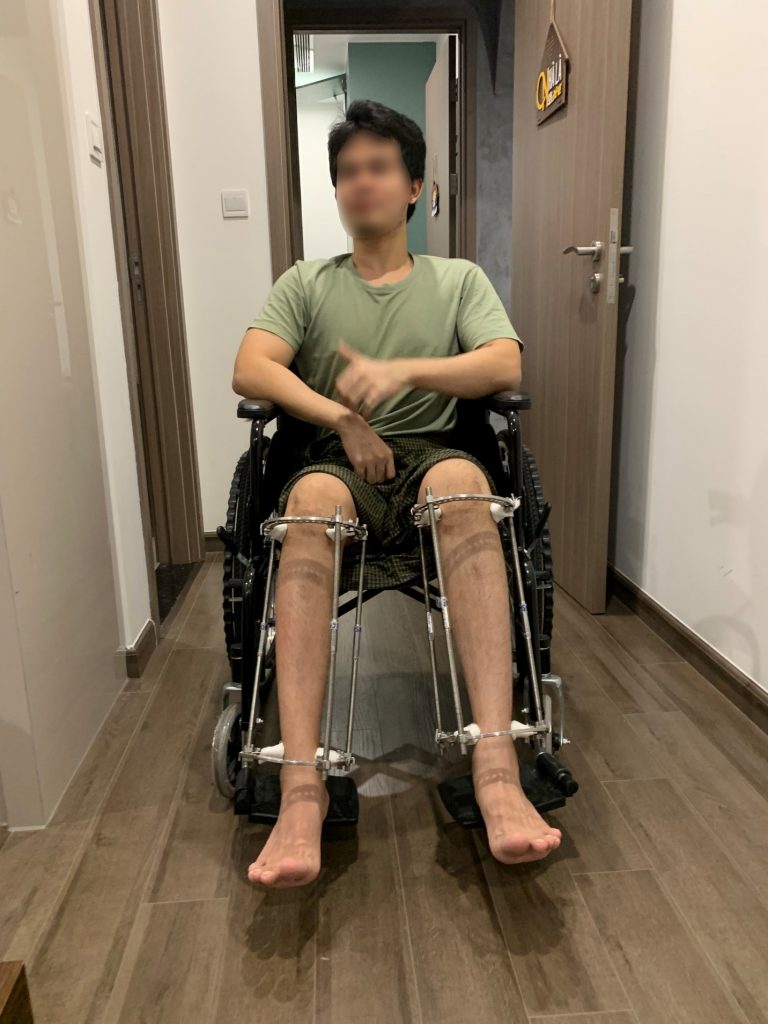 Preeda is delighted after getting his legs stretched by 7cm in 70 days like how he would like
As his dream seemed too hard to come true at the time, Preeda had to think of a plan when he went to work to save enough money to fulfill it in the future.
However, it was like destiny when he discovered about limb lengthening services in Vietnam. The cost of the procedure was reasonable and the quality was the same as that of European countries. "After more than a year of spending time looking for more information and reading comments and sharing of patients who have performed surgery via Facebook and Unstagram, I decided to contact and discuss directly with Dr. Doan", Preeda recalled his journey as he was looking for a reliable place to perform the surgery.
Impressed by Assoc. Prof., PhD. Le Van Doan, who has had a lot of experience in orthopedics and many research topics on limb lengthening in Vietnam, Preeda was fully convinced and arranged time to perform this important surgery.
Impressed by the services as well as qualities in Vietnam
Immediately after having made an appointment with Dr. Doan, Preeda booked a plane ticket to Vietnam. He was examined by Dr. Doan personally and received consultations on suitable methods and positions. According to Dr. Doan's experience, given the patient's height and age, it was possible to stretch his tibias by 7cm without risk of complications and guaranteed quick recovery. The surgery went smoothly as planned. After 7 days of discharge from the hospital, Preeda was arranged with accommodation, care, and thoughtful rehabilitation practices. There, he got the chance to live with friends from all over the world who also wished to undergo limb lengthening procedure like him.
Thanks to being able to share, chat and practice every day with other patients together like a family, everyone felt happy and excited as their dreams were about to come true. Especially during the outpatient treatment period, Predaa was arranged to have a spacious place to live and have a lot of delicious food. Contrary to his initial worries, after nearly 3 months in Vietnam, he gained nearly 2kg.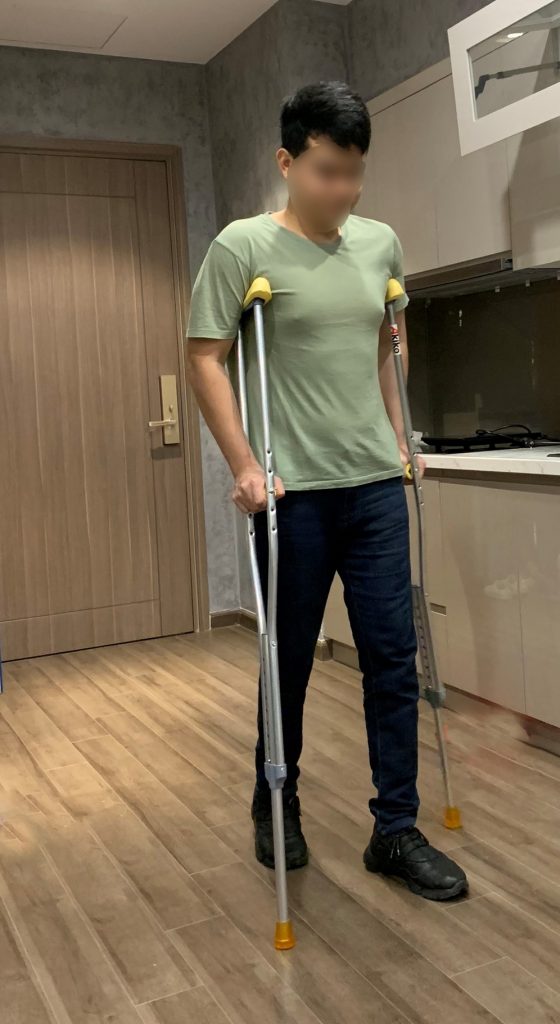 3 weeks after having the fixators removed, Preeda was able to almost walk like a normal person.
Sharing about the process of limb lengthening as well as the quality of service after surgery, Preeda could not hide his surprise: "I was especially surprised with the services in Vietnam. They were quick and simple. All surgical procedures and schedules were consulted and arranged directly by Dr. Doan via Facebook. Near surgery day, I just needed to book a plane ticket to Vietnam to continue with the process without having to wait. Moreover, as I underwent surgery at the hospital, even though I didn't have family and relatives by my side, I received care from the nurses who were very devoted and thoughtful. Only after a 2-hour sleep, everything was done, I did not feel any pain because of the pain reliever. By the second day, I was able to return to my daily routine. After 7 days, I was able to leave the hospital."
Now, after only 3 weeks of getting the fixators removed, Preeda's knee and ankle flexion amplitude is good and he can almost walk like a normal person. After his height got increased by 7cm, increasing from 163cm to 170cm, he feels like he has transformed into a new person.
Preeda will return to Thailand when the flight is allowed to be re-opened and continue to do his rehabilitation practices. When the epidemic is under control, he will go back to Australia to continue his studies and plan to settle abroad.
"Currently, I am extremely confident, proud and very happy with my new height. I hope that this will help me to have more new opportunities in the future," said Preeda excitedly.
May we wish Preeda the best of luck in his future endeavors.
Information Box:
Limb lengthening surgery is a rather complicated technique that not only requires bone intervention but also knowledge, qualifications and experience, as well as specialized facilities and tools. Therefore, each patient needs to prepare suitable time and choose a reliable address and a reputable, ethical and highly qualified surgeon to ensure the safety of the surgery.
Among many medical facilities and hospitals nationwide, you can find the information you need on the website: drdoan.vn. This website was created by Assoc. Prof., Ph.D., Le Van Doan himself for those who are interested to research and carefully prepare themselves for the surgery.
Over the past 30 years, Dr. Doan has consulted, directly operated, treated and monitored more than 500 cases of leg lengthening, including more than 300 successful cases.
• Tel: 0587 112 112
• Facebook: facebook.com/keodaichandrdoan
• Website: https://drdoan.vn/