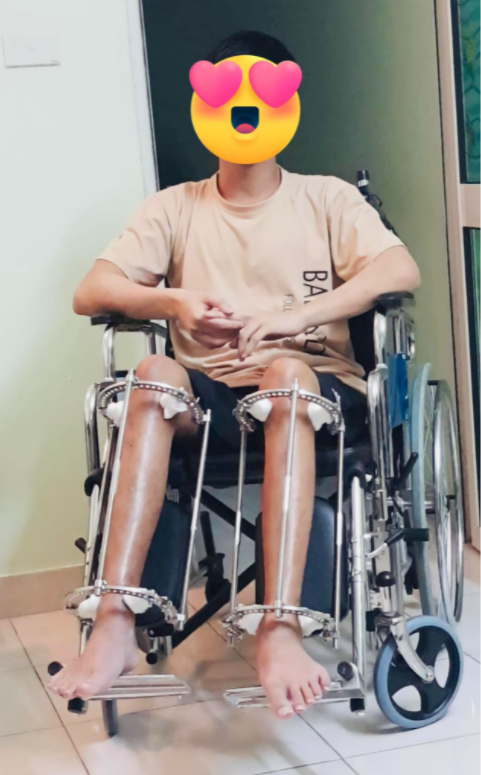 26-year old young man's journey to achieve his ideal height
I never thought that I could grow another 10cm, the 26-year old man shocked his family and friends after undergoing leg lengthening.
Feeling inferior because of his limited height compared to his peers, the 26-year-old young man was determined to save money and research thoroughly, getting ready for leg lengthening surgery. After 1 year, S has grown 10cm taller, going to meet partners, customers and friends in confident. This is also one of the biggest height improvement cases in Vietnam.
The young man's journey to achieve his ideal height
N.H.S, 26, is a young man with a good-looking face who decided to undergo leg lengthening to increase his height by 10cm with the hope to find new work opportunities and special become more confident in life.
Before the surgery, S was only 163cm tall so he always felt inferior and unconfident. For almost 2 years after graduation, he even could not find a desired job because of… his short stature. S said that the stigma and decrying from people around him and the demands on height and physical appearance from employers made him more determined to get his legs stretched.
The young man spent over a year doing his own research, gathering relevant information on the Internet about this topic in Vietnam and around the world. "I researched extensively for credible methods and locations for the procedure. Finally, I "put" my legs in the good hands of Dr. Doan because I knew that Dr. Doan has performed leg lengthening for many people and he was one the most experienced specialists in Vietnam in this field", N.H.S shared.
After going through the surgery and rehabilitation phase, the 163cm man achieved his ideal height of 173cm. S now can walk and move around normally without having to face any trouble in life.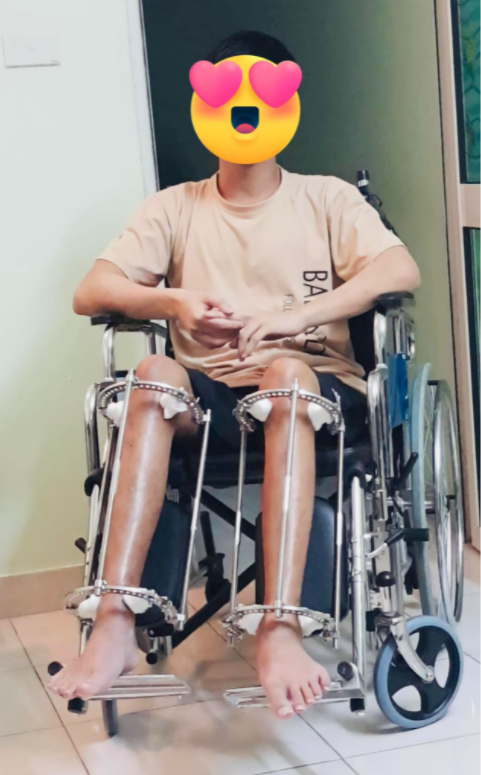 N.H.S did not feel any pain in the first 10 days in the hospital. From the third day, he could move using his wheelchair.
Not as difficult and painful as I once thought
Looking back at his leg lengthening journey, N.H.S could not hide his surprise and emotions when his surgery was not as painful and inconvenient as he once thought. "During my first 10 days in the hospital, I found everything easy, convenient and almost painless thanks to supportive drugs and advanced and modern techniques. From the second day after the surgery, I could sit by myself to eat, drink and watch TV. From the third day, I could get to my wheelchair to start moving. During the 10 days in the hospital, I almost did not need any care or support from my family." – S told.
During the treatment period at home, the patient's sense of self-awareness plays a decisive role in the success of the surgery. In addition to adjusting the stretching frame, the patient must practice hard every day to stretch the tendons evenly, otherwise, later on, the patient will only be able to walk on tiptoe. "I myself, every day, have to schedule my own foot flexion and muscle training exercises", N.H.S shared.
In order to prevent infection, every few days the bandages will have to be changed at the pin sites with the help from antiseptic drops. S also said that although his leg lengthening process was difficult, he got the chance to meet good friends who shared the same situation. Together, they set up a private chat group to share experiences, encourage and help each other get through the difficult periods before, during and after surgery.
Surprised by the enormous change in height
"After undergoing the surgery, both me and the doctor who performed the procedure were extremely happy. Standing on the legs that have been extended by 10 cm as originally intended, I feel quite surprised. Sometimes I still think I am in a dream," S happily recalled.
S' surgery was performed by Dr. Doan himself. This case saw quite a large improvement in height. The patient was one of the people who showed great fortitude and were hard-working in practice. Therefore, after 3 months getting the fixators removed and the bolts unscrewed, he was able to walk again.
Assoc. Prof., Ph.D. Le Van Doan, Director of the Institute of Traumatology and Orthopaedics – 108 Military Central Hospital said that leg lengthening is a rather complicated technique that not only interferes with the bones but also requires knowledge, qualifications and experience, as well as specialized facilities and tools. Therefore, each patient needs to be mentally prepared and choose a reputable and reliable location to ensure the safety of the surgery. Thanks to the sincere advice and enthusiastic attention of Dr. Doan, from being persistently against, S was able to convince his parents to support his decision. That was his biggest motivation.
"In theory, it is possible stretch the legs as much as you want, according to the patient's needs. But depending on the specific case, we will suggest a suitable length that would have a reasonable proportion with the body. In addition, this also helps to minimize complications," said Assoc. Prof. Doan.
S affirmed that his decision to get leg lengthening was absolutely right. S do not have to be inferior anymore. Now he is always confident and proud when walking with his peers and he can feel free to choose jobs that he would never dream of before…
"To be where I am today, I feel very fortunate to have met Dr. Doan, who directly consulted and performed surgery for me. I think he is the best specialist in leg lengthening in Vietnam and he especially pours his heart into his work, always encouraging and caring for those who have been and are undergoing surgery. I was right to choose Dr, Doan because this type of surgery is quite complicated. It takes a doctor who is very good in expertise and morals for the patients to feel secure. It was him who asl helped me convince my parents to allow me to perform this surgery.
Although it has been almost a year since my surgery with no problem, the doctor still cares, encourages and often asks about my health, " said S
Hopefully, the positive change in N.H.S's life after his surgery will be a motivation that gives strength to those who are short in stature. This is a modern method that does not affect the patient's life expectancy like many people mistakenly believe.
Additional Information:
Associate Professor – Doctor of Medicine – Excellent Physician Le Van Doan (Dr. Doan) is the Director of the Institute of Traumatology and Orthopaedics – 108 Military Central Hospital. The Associate Professor has had over 30 years of experience in Orthopaedic and microsurgery.
Up to this day, Dr. Doan has successfully performed over 500 leg lengthening surgeries and over 300 leg lengthening to increase height surgeries. All patients after the procedures are satisfied and become more confident in life.
Since there is an overwhelming number of requests for leg lengthening but very few official sources to research, Assoc. Prof., Ph.D., Le Van Doan has opened the website drdoan.vn for those who are interested to research, consider and carefully prepare themselves before the surgery.