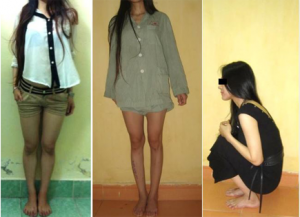 The patient with the shortest height
Though it has been nearly 20 years, Assoc. Prof., Ph.D. Le Van Doan, Director of the Institute of Traumatology and Orthopaedics, 108 Military Central Hospital can still remember vividly a female patient named Hang from Hanoi who was led by her sister who is a medical worker to the 108 Hospital to seek advice on leg lengthening.
"The female college student that I encountered was as small as a piece of candy with a height of only 1.38m. Her weight was over 30kg and she was in her junior at an university in Hanoi", Assoc. Prof. Doan recalled.
Her inferiority complex about her height prevented her from socializing with her peers. She became self-deprecating when she sidled to places.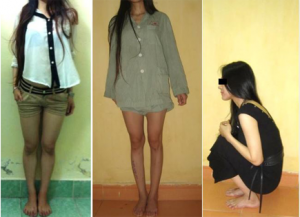 At that time, Dr. Doan provided the young girl with detailed advices regarding the procedure. This method was for people who were brave and persistent as it would take nearly one year to wear the fixators. With all personal activities being done from the bed, it would be very frustrated and uncomfortable.
Without any hesitation, the young girl decided to take a year off from the university to start her leg lengthening journey. More than 300 days passed full of tears and pain. Finally, Hang burst with joy as her height has increased by 8cm.
She returned to the university with a joyful attitude. Later on, she moved to Ho Chi Minh City to start her career and get married and now she is enjoying her life there.
Dr Doan states that Hang is the shortest patient to receive leg lengthening surgery from him.
Two other female patients who were both 1.53m tall and 37 years old also decided to get leg lengthening together though both have had 2 children already. At the moment, they have finished the treatment with perfect results, each getting their height increased by 7cm. Up to now, these are the 2 oldest cosmetic leg lengthening patients that come to the 108 Hospital.
Recently, the Institute of Traumatology and Orthopaedics – 108 Military Central Hospital has received 2 special patients coming for leg lengthening. The first case is a Vietnamese American international male student, who is 18 years old this year. He was 1.60m tall, has got his legs stretched by 6cm, and will have the fixators removed next week.
The other case is a girl of Vietnamese origin who is living and working in the UK. She has decided to take a year off from her work to return to Vietnam to undergo surgery to improve her height of 1.49m due to her inability to integrate into the work environment.
Dr. Doan also cannot forget the case of a 25-year-old man from the Southern Vietnam who flew to Hanoi to apply for leg lengthening surgery. A long-term plan was even made by this man by accumulating wealth, renting a house, hiring a caregiver for nearly a year in Hanoi.
After completing all the tests to be ready for surgery, Assoc. Prof. Doan asked about the person accompanying the young man to see if he was just a friend and not a relative. Soon after, the patient's mother found out about her son's intention and contacted the doctor to stop the surgery.
Hearing the doctor's announcement, the young man almost went crazy. He begged for surgery to be performed, but in the end the doctor had to refuse and he advised the patient to spend more time to convince his family.